Gift Planning Menu

Saturday December 3, 2022
Finances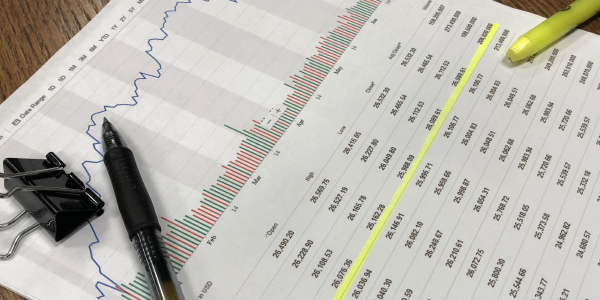 AutoZone Posts Earnings Report
AutoZone, Inc. (AZO) released its first quarter earnings report on Tuesday, December 7. The auto parts company shares increased almost 8% after the company released better-than-expected quarterly earnings.

The company reported net sales of $3.7 billion during the quarter, exceeding analysts' expectations. This was up 16% from $3.2 billion in sales during the same quarter last year.

"Our strong sales and earnings this first quarter are a continuing testament to our AutoZoners' commitment to going the extra mile for our customers," said AutoZone CEO Bill Rhodes. "Our retail and commercial sales performance were consistently strong all quarter. Our commercial business growth continues to be exceptionally strong at 29.4% as the investments we are making are positioning us well in the marketplace. We are optimistic about our growth prospects for the balance of the fiscal year."

AutoZone reported net income of $555.2 million for the quarter, up 25.5% from $442.4 million in the same quarter last year. On a diluted earnings per share basis the company reported earnings of $25.69, up 38.1% from $18.61 reported in the same quarter last year.

Domestic same store sales increased 13.6% for the quarter as demand for used cars continues to rise during the pandemic. During the quarter, AutoZone opened 15 new stores in the U.S., one in Brazil and two in Mexico. Currently, the company has a combined total of 6,785 stores in all three countries. The increase in new store openings resulted in the company's inventory increasing 3% over the same period last year.

AutoZone, Inc. (AZO) shares ended the week at $2,003.02, up 6.7% for the week.


Dave and Buster's Reports Earnings

Dave and Buster's Entertainment, Inc. (PLAY) announced quarterly earnings on Tuesday, December 7. The arcade company stock rose 6% following the release of the report.

Revenue reached $318.0 million for the third quarter. This was a 191.6% increase from revenue of $109.1 million reported in the same quarter last year.

"Since assuming the role, I have been impressed with our team's hard work and dedication to operating in this evolving environment," said Dave and Buster's Interim CEO Kevin Sheehan. "I am excited to be working with them as we look forward to more normalized operations across our stores. We have begun a new phase of innovation, growth and value creation with a focus on realizing the Company's significant upside potential. I am excited about the future and look forward to sharing our progress with all of our stakeholders."

Dave and Buster's reported quarterly net income of $10.6 million or $0.21 per adjusted share. Last year at this time, the company reported a net loss of $48.0 million or $1.01 per adjusted share.

Dave and Buster's began the third quarter with 143 stores and opened one new store during the quarter. The company expects to open a total of four new stores during fiscal 2021 and will relocate one current location. The company noted that fourth quarter revenue may be negatively affected by a lack of social events as both the Christmas and New Year's holidays fall on a Friday and Saturday this year.

Dave and Buster's Entertainment, Inc. (PLAY) shares closed at $34.37, up 13.6% for the week.


GameStop Releases Earnings

GameStop Corp. (GME) announced its third quarter earnings on Wednesday, December 8. The video game, consumer electronics and gaming merchandise retailer's shares dropped more than 4% following the report's release.

GameStop reported quarterly revenue of $1.30 billion. This was up from $1.01 billion reported at this time last year.

"We believe our emphasis on the long term is positioning us to build what will ultimately become a much larger business relative to where we are in 2021," said GameStop CEO, Matt Furlong in the company's earnings call. "We believe revenue growth will translate to scale and market leadership. And from there, scale and market leadership will translate to greater free cash flows over time."

GameStop reported a net loss of $105.4 million or $1.39 per adjusted share. This is greater than the net loss of $18.8 million or $0.29 per adjusted share the previous year.

For the third quarter, in pursuit of its mission to focus on ecommerce sales, the company opened new offices in Seattle and Boston. The company also secured a $500 million asset-based lending (ABL) facility in November to help with liquidity and reduce borrowing costs as the company turns towards investing heavily in e-commerce.

GameStop Corp. (GME) shares ended the week at $159.01, down 4.2% for the week.
Treasury Yields Decline
U.S. Treasury yields varied throughout the week as investors continued to process the latest news regarding the omicron variant of COVID-19 and unemployment levels. Yields dipped on Friday as the U.S. inflation rate reached its highest level in nearly 40 years.

The November consumer price index rose 6.8% year-over-year, rising at the fastest pace since 1982. In response, the Federal Reserve is expected to begin raising its benchmark short-term interest rate faster than was previously expected by many experts.

"Generally, the higher prices we're seeing are related to the supply-and-demand imbalances that can be traced directly back to the pandemic and the reopening of the economy, but it's also the case that price increases have spread much more broadly in the recent few months," said Fed chair, Jerome H. Powell. "I think the risk of higher inflation has increased."

The benchmark 10-year Treasury note yield opened the week of 12/6 at 1.357% and traded as high as 1.534% on Thursday. The 30-year Treasury bond yield opened the week at 1.679% and traded as high as 1.905% on Thursday.

On Thursday, the U.S. Department of Labor reported that initial claims for unemployment insurance totaled 184,000. This was lower than the 211,000 unemployment claims estimated by experts and the lowest reading since 1969.

"A correction next week seems likely, but the trend in claims clearly is falling rapidly, reflecting the extreme tightness of the labor market and the rebound in GDP growth now underway," said chief economist at Pantheon Macroeconomics, Ian Shepherdson. "It's very risky for firms to let go staff unless they have no other choice, because re-hiring people later will be difficult and likely expensive."

The 10-year Treasury note yield closed at 1.49% on 12/10, while the 30-year Treasury bond yield was 1.88%.
Mortgage Rates Remain Stable
Freddie Mac released its latest Primary Mortgage Market Survey on Thursday, December 9. Mortgage rates remained relatively steady this week.

This week, the 30-year fixed rate mortgage averaged 3.10%, down from last week's average of 3.11%. Last year at this time, the 30-year fixed rate mortgage averaged 2.71%.

The 15-year fixed rate mortgage averaged 2.38% this week, down from 2.39% last week. During the same week last year, the 15-year fixed rate mortgage averaged 2.26%.

"Mortgage rates have moved sideways over the last several weeks, fluctuating within a narrow range," said Freddie Mac's Chief Economist, Sam Khater. "Going forward, the path that rates take will be directly impacted by more information about the Omicron variant as it is revealed and the overall trajectory of the pandemic. In the meantime, rates remain low and stable, even as the nation faces declining housing affordability and low inventory."

Based on published national averages, the savings rate was 0.06% as of 11/15. The one-year CD averaged 0.14%.
Published December 10, 2021
Previous Articles
Salesforce Posts Quarterly Earnings